Per la versione italiana CLICCA QUI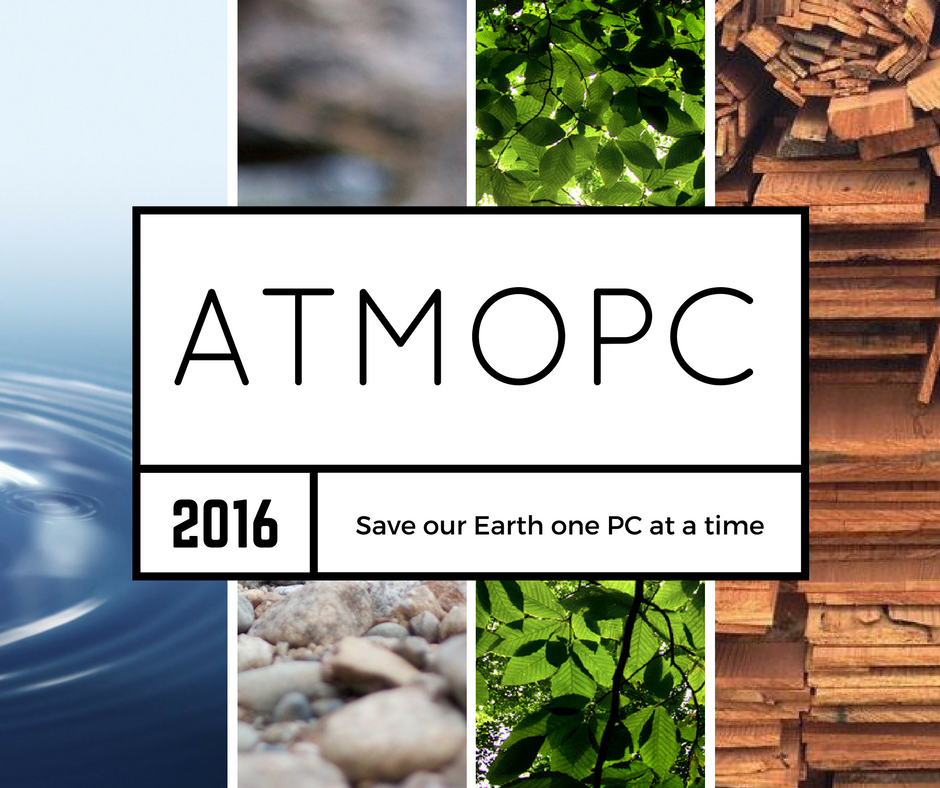 ATMOPC™
ATMOPC produces world unique high technology ecosustainable Computers.
We are #unconventionalgreen.
ATMOPC™ Vision
Computer quantity will double within 5 years. It will be therefore a moral and social obligation to minimize the use of raw materials in PC industry. ATMOPC corporate values are already summarized in "Reduce, Reuse and Recycle". It's now important more then ever before to connect our life to Nature.
ATMOPC want to provide the basis to actively preserve, protect and improve our wonderful planet.
ATMOPC™ is innovation
WE CAN LIVE BETTER!
ATMO can convince you with three valid arguments;
Elegance –  eyes nourishment
Oxygen –  mind nourishment
Energy saving –  positively impact envinronment and your wallet
ATMOPC™ will improve and preserve our environment
ATMOPC Business objectives is to provide to companies and individuals its ecofriendly low power consumption Computers. We want to help our ecosystem in two main ways:
Reduct Carbon Dioxide emissions caused by computers usage.
ATMOPC tests and use low energy consumptions components. Some models, such as KUMU or IKE, does not need even fan systems but just an aluminium thermal module. Computer is cooled by forced natural ventilation.
Computers combined with ATMOPC case and plants consume just ¼ compared to a traditional desktop PC. In the meantime our plants produce Oxygen and grows even thanks to ATMO cooling/heating system. Energy efficient , its power consumption  is 60/70 kWh yearly circa, about 20/25 euro. High percentage of users are switching to solar power, but also for those who are connected to a normal electrical net, it is necessary that the amount of energy used at office or at home is minimal and ATMO fully centers this goal.
This Process combined with lower consumptions aims to improve climatic conditions and support ATMOPC in the reduction of power plant emissions.
Deforestation caused by the fall of forests for commercial purposes.
ATMOPC models are provided with a plant. This plant grow better even because ATMO will mantain its perfect grows conditions. After two, three months this plant need to be repotted. Default plant in ATMO is a Peperomia rotundifolia, but we have compiled a list of other plants that could play the same role. ATMO heat warms plants compartment to a temperature between 17 and 23 degrees centigrade. In other words, there's the right conditions for our plants to grow and this process facilitate the "home reforestation".
Every ATMO model can host 4 plants every year (if you're not using a succulent plant). We would like to show this technology as a future archetype. We can really produce an "House reforestation" phenomenon. Depending by the plant used we can produce small or large green areas.
At the moment no trees is cutted to produce ATMO series then we will use FSC woods from ecosustainable managed forests. A wooden object is time resistant. ATMOPC plans to produce Computer upgrade kits, so it  will be enough to replace some parts of the PC. We'll eliminate a large part of plastic and iron. We will plant a Tree every ATMO sold.
Our aim is to open new ecosustainable way to intend computer science being apart of our environment needs.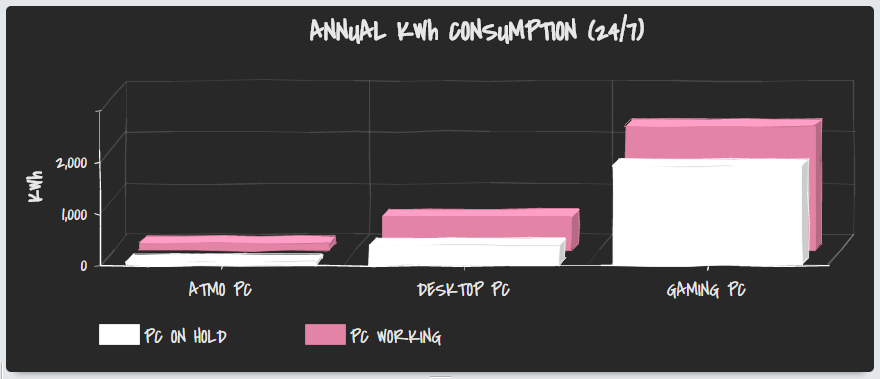 ATMO Power usage and consumption
We are about to test a new kind of research with a simple goal. We want that our PCs, and possibly all other technological tools, can use truly clean power from the plants, which currently daily produce six times more energy needed for all humanity. This is the real goal set for the future by ATMOPC and this is what we are activating for.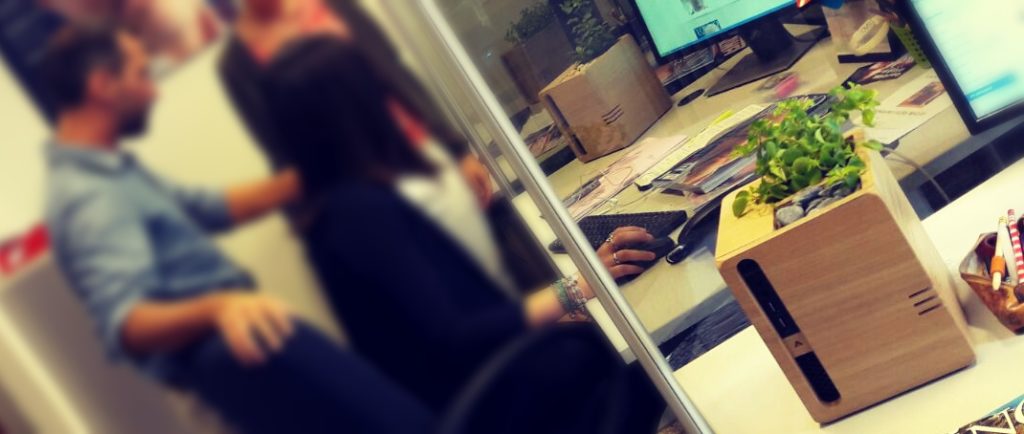 NEW ATMOPC
Let's just take a look to our new ATMO computer, PIXIT MEA. Specially handcrafted for Leonardo Da Vinci's Fifth Hundreth. ATMO, wood computer, adorned with a plant and river stones, positioned above your desk will relax eyes and mind with its features. ATMO natural elements are not only a box but are fundamental in the functioning of this eco computer. While you're working ATMO will gently mantain to a constant temperature plant on its top.. This process plus light will activate photosynthesis. In this good conditions ATMO's plant start produce Oxygen that will fill your environment.
You can even use stones, a natural heatsink, as an essential oil burner or aroma Therapy. Now take a deep breath and let ATMO help you.
ATMOPC materials
ATMO is made with scraps wood, recycled or just aged wood. There is plenty of this wood for immediate use! This does not mean that it is waste or bad wood, this simply means that this fine wood used to built furniture can't be used for anything else except to build little things, like ATMO case.
Every ATMOPC Computer is a state of the art handcrafted master piece.
ATMOPC PIXIT MEA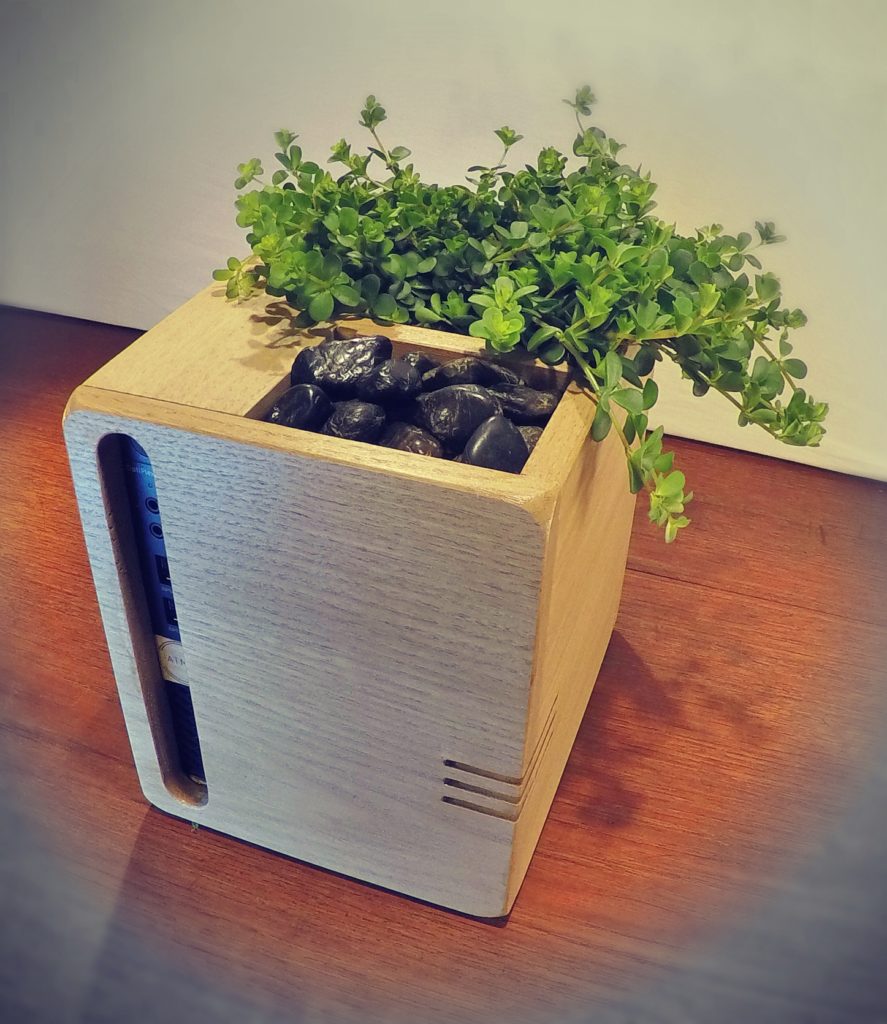 ATMO PIXIT MEA powered by DELL inside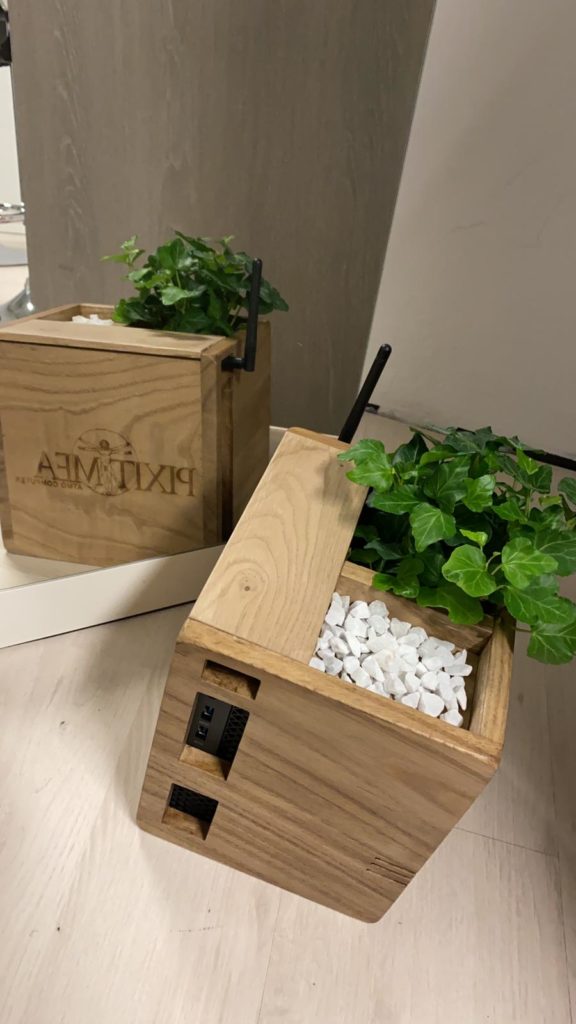 "PIXIT MEA", "Make it by me", is top of range in terms of speed and capacity. You can have it with Leonardo Pixit Mea Logo as well with your logo.
Its dimensions are  19x17x19cm, Cordless Keyboard and Mouse included
Specifications: OS Windows 10 Professional – CPU Intel I5 – 8Gb Ram – 256 Gb SSD –  4 Usb – HDMI – SerialPort – Wifi – Bluetooth – LAN – 3 years European Warranty next-day call
RAM Memory can be extended up to 32Gb and Hard Disk can be replaced with larger media.
We can laser engrave anything, like logo or image, on every ATMO models.
Available in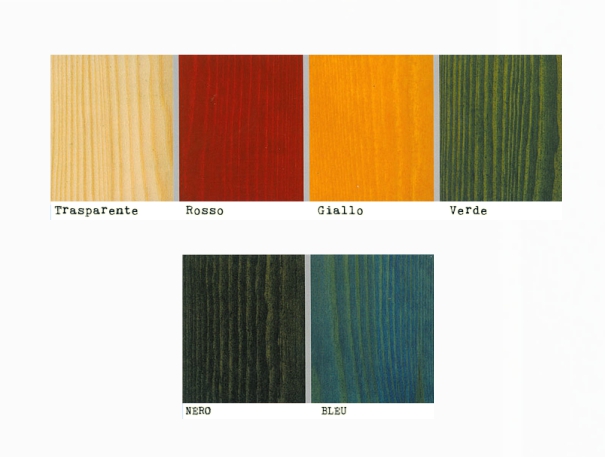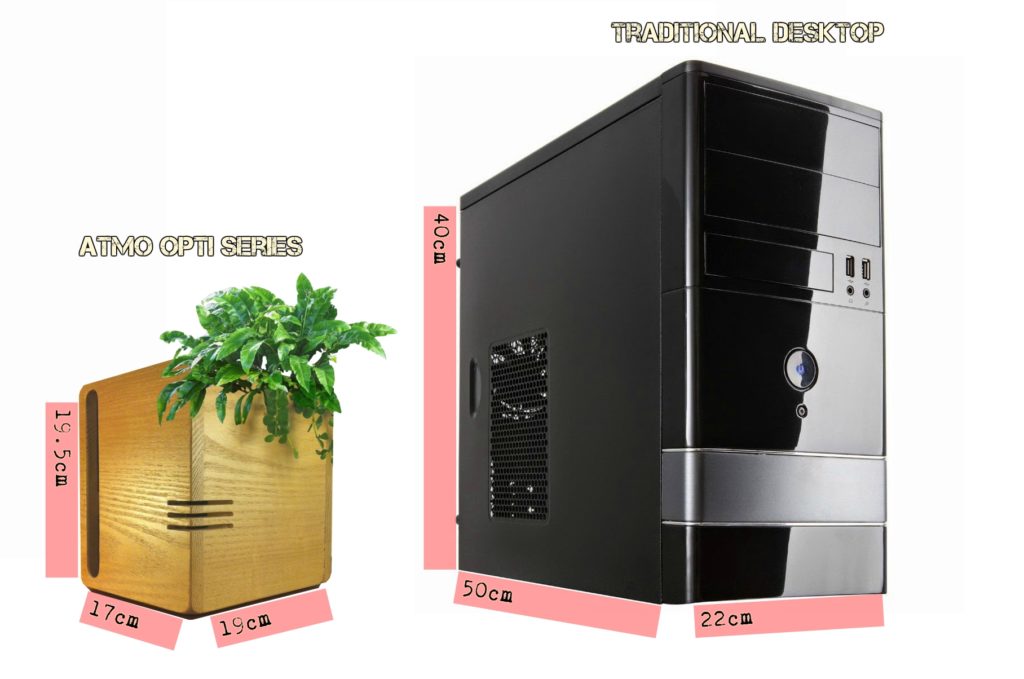 We will plant a Tree every ATMO sold. We want a GREEN planet!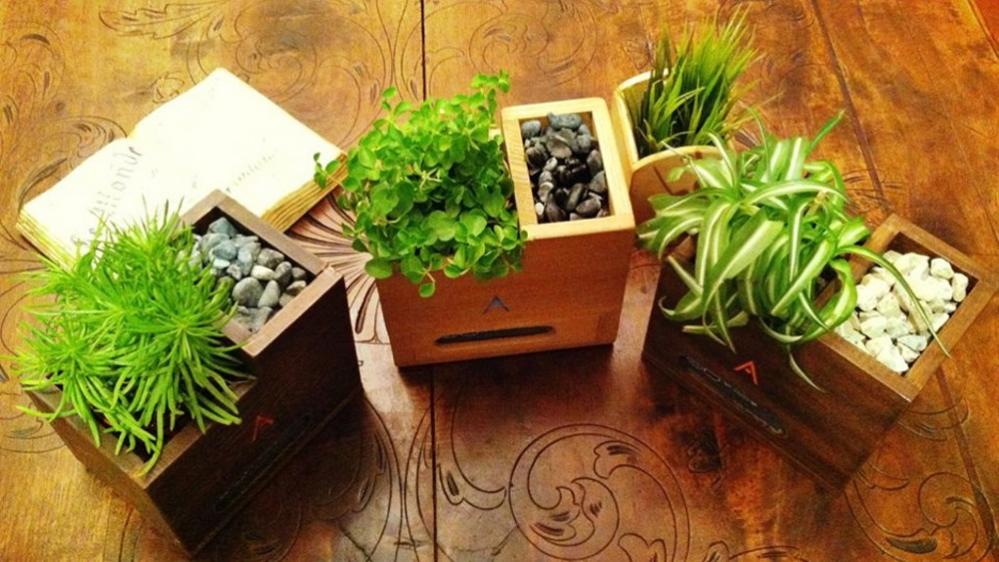 First ATMO Series
"The best way to predict our future is to create it"
Use ATMO and IMPROVE our ENVIRONMENT 
Previous ATMO Series no longer in production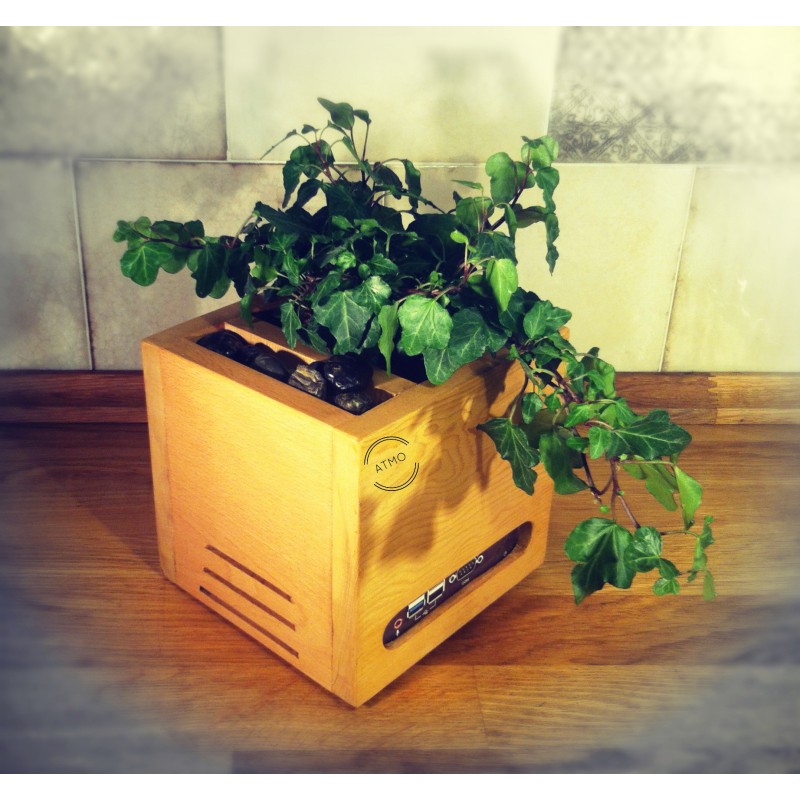 ATMO IKE
Our Entry Level, specially designed for home use. A perfect balance between performance / cost. "IKE" is an Hawaiian word meaning "Knowledge"
Its dimensions are 15x15x15cm, Cordless Keyboard and Mouse included
Specifications: OS Windows 10 Professional – CPU Intel Celeron N2830 – 4Gb Ram – 64Gb SSD –  5 Usb – HDMI – VGA – Wifi – LAN – 1 year warranty on electronic parts – Free Return and shipping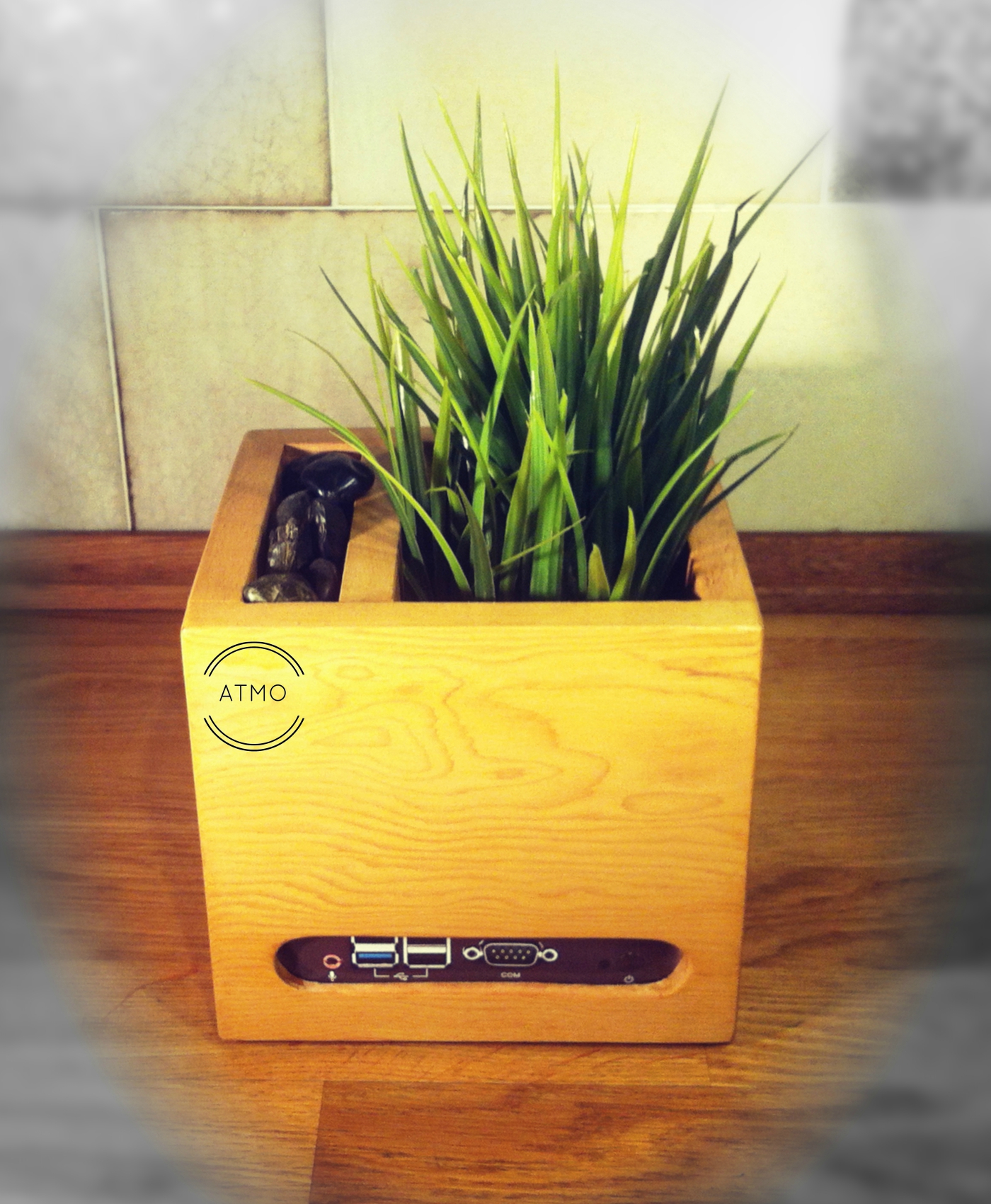 ATMO KUMU
KUMU was designed for professional home use. Perfect to watch your favourite movie, playing a game or just typing a doc. "KUMU" is an Hawaiian word meaning " the source"
Its dimensions are 15x15x15cm, Cordless Keyboard and Mouse included
Specifications: OS Windows 10 Professional – CPU Intel Celeron J1900 – 4Gb Ram – 128 Gb SSD –  5 Usb – HDMI – VGA – Wifi – Bluetooth – LAN – 1 year warranty on electronic parts – Free Return and shipping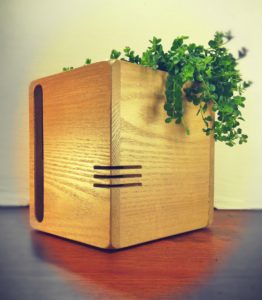 ATMO WALE DELL inside
WALE is the first business PC based on Optiplex 3040.  "WALE" means "Imagination"
Its dimensions are  19x17x19cm, Cordless Keyboard and Mouse included
Specifications: OS Windows 10 Professional – CPU Intel I3 – 4Gb Ram – 128 Gb SSD –  4 Usb – HDMI – Display Port – Wifi – Bluetooth – LAN – 3 years European Warranty next-day call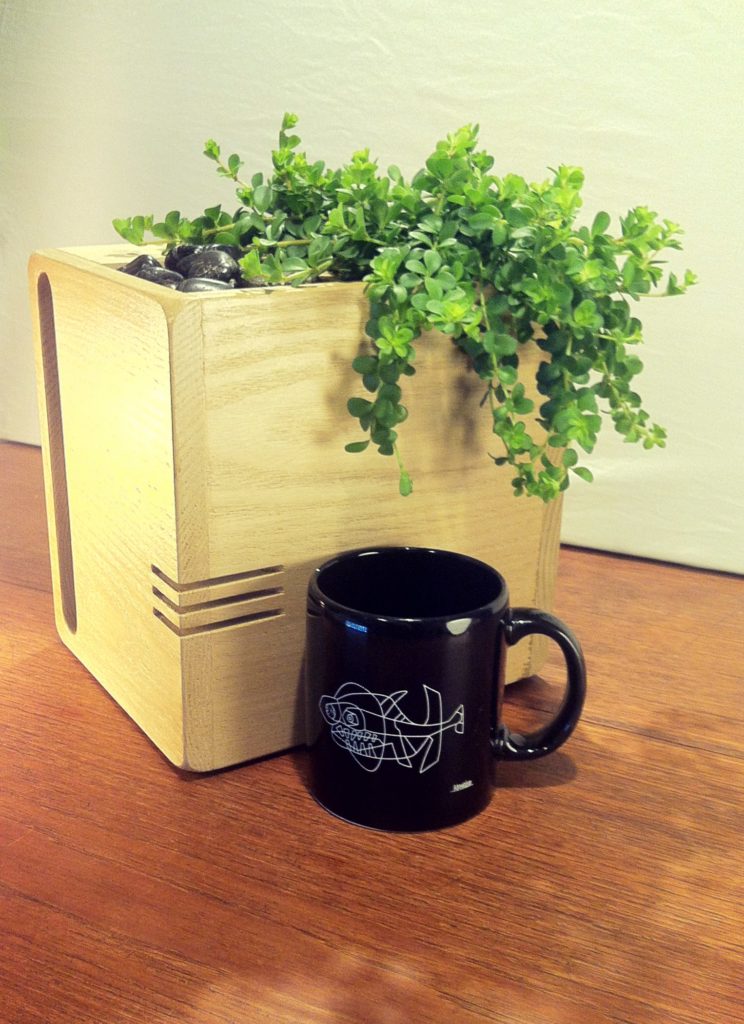 ATMO MANA DELL inside
A great computer with a fast processor and plenty of space to save your data. Precisely for this reason "MANA" means "Power"
Its dimensions are  19x17x19cm, Cordless Keyboard and Mouse included
Specifications: OS Windows 10 Professional – CPU Intel I5 – 4Gb Ram – 512 Gb HDD –  4 Usb – HDMI – SerialPort – Wifi – Bluetooth – LAN – 3 years European Warranty next-day call
Think Digital | Live Analogic